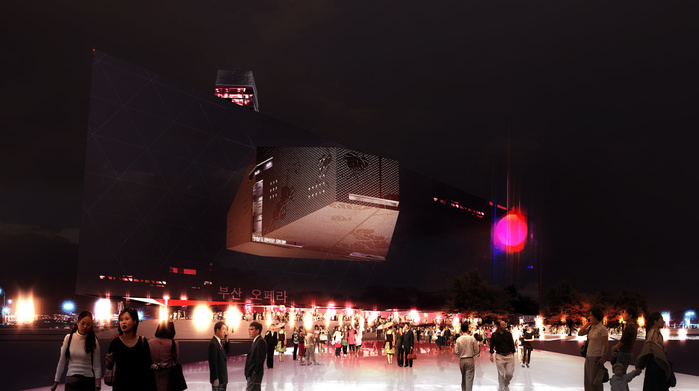 Staring at the horizon, my eyes captivated by a stormy sky which seemed on the verge of falling into pieces. Suddenly, something captured my attention; something strange, something abnormal. A group of buildings, which could only be understood as otherworldly. It appeared there was a castle floating in the sky. Barely visible at first, then clearly appearing, triumphant , mysterious, awe-inspiring!

We believe that experiencing the drama of opera must begin with its vessel. Thus, creating a dramatic experience that begins before the curtains draw open and lasting well after is the role of the opera house. Through the strategic use of standard building materials, the orientation of the main building mass and the deployment of specific programmatic masses we believe an awe-inspiring architecture can result –from common architectural elements, we can create an anomaly in the sky.

The effect of the castle in the sky begins with simple building materials. The three facades of the main triangular buil- ding mass are clad in a basic diagrid pattern of laminated mirrored glass panels. The mirrored panel is hung in front of the curtain wall's substrate. With seams minimized, the effect is a continuous mirrored plane. By canting the skin slight- ly, the sky is reflected and duplicated in the facades. At once the effect of a continuous mirrored body conveys both the illusion of the public slipping beneath the sky and the building's mass erased by it's own skin.

Selected programmatic masses then break through the facade and cantilever over the edge of the mirrored vo- lume –such as the back of a theatre, and a rooftop castle packed with public program. A glowing orb marks the Opera in the night as a beckon for the arts. The effect is an architectural anomaly. From each vantage point, each one of these programmatic elements are made to look complete by their reflection, creating the illusion of masses floating amongst the clouds.

Finally, the pure mirrored body is broken once, indexing the lobby, to reveal a deep cave-like space. On the exterior, this singular interruption in the facade is demarcated to evoke curiosity rather than to simply mark the grand lobby-as if there were a tear in the sky.

Inexorably attracted, I began walking toward the direction of my supernatural apparition. And then, it was as if the sky itself was beginning to be inhabited by a secret force. As if cut in its middle, splitting itself into opposite directions, torn away into two separate plans, with the clouds, somehow, reflecting on one another.