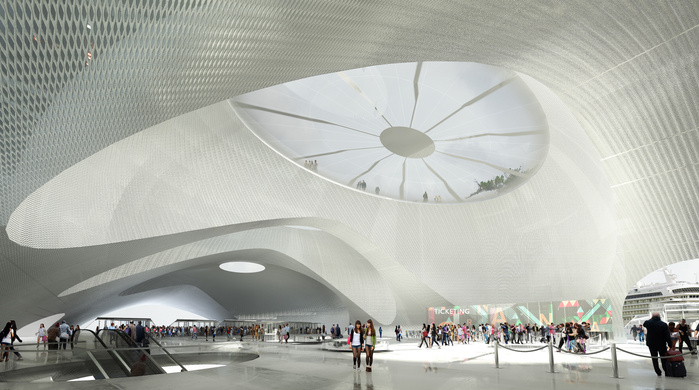 It is our view that urban interventions of minimal environmental impact and high visibility have the power to shift the perceptions of a neighborhood and hopefully shift common thought into the realm of what has never been done before, or what could be done.
We believe that the key to a successful port terminal lies in the ability of the built environment to inspire its residents to look beyond the common, the materialistic and the easily consumed in favor of the stimulating, the daring and the whimsical. Only with this premise may we start to break our old habits and consider radically new, more environmentally conscious ways of living. The approach we took in designing the Kinmen Passenger Service Center was to create a sustainable landmark.
To become a landmark this project adopts a form that resists easy classification to free-associate with successive symbols of moods: the industrial, the utilitarian, the abstract, and the poetic. It combines maximum artistry with maximum efficiency. Given its location and placement, the figure of the building takes a geometrical stand in relation to the surroundings and creates a microcosm of the natural environment within public space, a reference to the natural landscape of Taiwan, an island known for its various altitudes and diverse microclimates.
With these strategies invoked, the center becomes a destination affording a view, an overview, and insight into activities of the city and its natural habitat at this select location. The center will be a sustainable global gateway that represents Taiwan's cultural progress, innovation, and modern commerce.
The Port of Kinmen will symbolize the auspiciousness of all living beings in a state of fearlessness, without danger of drowning in the ocean of sufferings, and migrating from place to place freely and spontaneously, just as fish swim freely without fear through water.