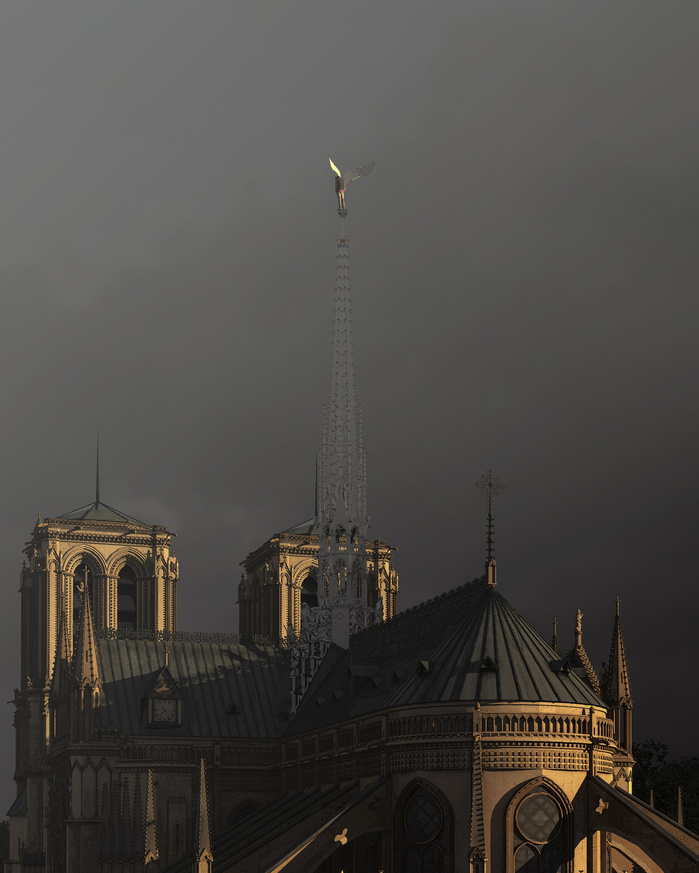 We propose to 3D print IDENTICALLY the spire with a chrome finish and to rebuild the entire roof AS IT WAS with a fireproof structure.
The unforgettable silhouette is restored but fades somehow, reminding the world of the the irreversibility of our mistake.
Even though the physical spire stands strong, it glows or fades like a memory. It reveals the empty void that was created by the fire, memorializing a sense of volatility and unpredictability.
"An invisible presence" is how Victor Hugo described a souvenir.
Atop the chrome spire stands a piece of art.
This should be the only piece that should be open to discussion.
We proposed two options both showcasing what the evanescent but strong object should now supports.
A teen angel. He is dressed as a teenage boy. The angel looks down on the city, at times floating when the light changes the reflection of the chrome spire. The illusion is at it's best when the angel kid is left dangerously and sadly suspended in the sky with no grounds. It's Godard's "Walt Disney avec du sang" contemporary as ever.
Two women, a queer couple atop the spire.
They represent the Catholic church, supporting the people of Paris and their differences. Just like the boy, they sometimes stand above the church while other times floating above the city. The couple appear small to people looking up at the Cathedral, not imposing on the original Gothic architecture, they are simply enjoying the view together.
An invisible presence #asouvenir