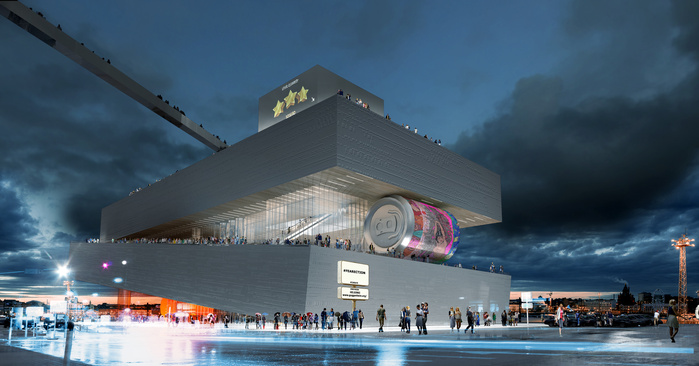 What the art world needs—what Helsinki needs—is not an iconic museum that will eclipse the artwork it displays, but a museum that allows the art to be the icon. A museum that gives curators the opportunity to reinvent, with some regu- larity, the whole image of the museum. A museum that recedes into the background of the art within and surrounding it. A museum for the people of Helsinki.
To that end, we propose a museum that becomes a backdrop for art of all scales. We asked what the museum would be on its own, without the artwork. We would have a set of boxes housing empty exhibition halls, o ces for curatorial sta , labs for retouching pieces, perhaps a café ... we develop containers for art, programs, and people. But what if these volumes were forced to react to art? What if the art itself was shaping the spaces above, between, and under- neath parts of the museum?
We propose that art disrupts architecture with an arrangement of neutral volumes tilted, canted, and angled by the simple introduction of art into the structural equation. Vertical cores supporting and connecting the volumes of the ex- hibition spaces would themselves be commissioned artworks. Large-scale public art pieces visible—and accessible— to the people of Helsinki, not only activate the museum, they also enable it. We lift up one side, and visually prop it up with a MEGA ART piece, and we have an entrance – but visitors wonder: will it hold?

Our simple spatial angling opens the museum's ground level to the city, allowing people to experience the vertigo of precarious-feeling volumes overhead at all hours. By carving out the middle of our volumes, we nd a warm, wood- lined atrium at the heart of the museum, open to the public year-round. This vast ground-level space will be ooded with daylight (or Northern Light) from roof cutouts as well as reverberations of sounds from the harbor. The angles introduced by our art insertions also produces space between the building volumes that can be used as public plazas and roof decks for small performances, screenings, and exhibitions; or simply for city residents to look out over their harbor at night. The art's prominent exterior integration celebrates it as a gift to the people of Helsinki. The identity
of the museum changes with a shift in exhibition strategy. These sculptures are reimagined according to the vision of curators and citizens, such that every visit to the museum yields a different image of it. The museum recedes, and the art takes over.